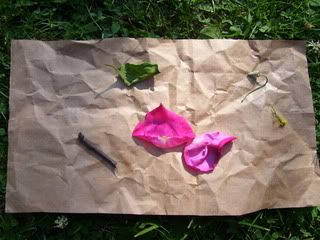 We have really been enjoying all the nice weather. It has set the stage for exploration outdoors. Plants are in bloom. Birds are chirping and the bees are buzzing. We wanted to see all of these interesting things, so we went on a nature walk. We collected leafs, flowers and other things that we found. When we returned home, we created a nature collage with all the things we found.We had a great time learning, and you will too.
Materials: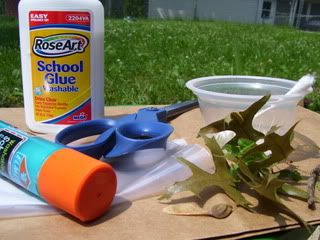 (
Per Child)
A Small Plastic Bag
A Brown Paper Bag
Scissors
Glue and/or Glue Stick
Leafs,Twigs,Flowers
Q-Tips
Glue Container
1. First, give each child a small plastic bag. Tell them that you are going for a walk. Tell them to pick out nice things that they see.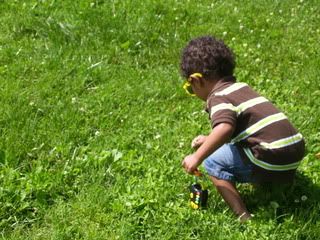 You may need to model this. (Ex."Look at this leaf, I am going to put it in my bag".While you are on your walk, point out and name things.)
(Ex."This is a white and yellow flower".)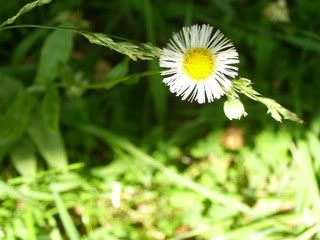 2.When you return from your walk, have the child share what he or she found.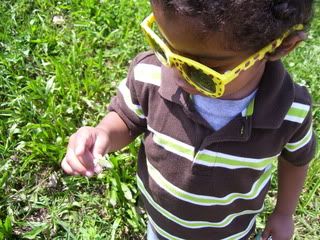 3.Give each child a paper bag.(I cut and created wrinkles in our bag before.This creates a single textured sheet of paper).
4.Set out the glue/glue sticks have each child glue their findings to the paper.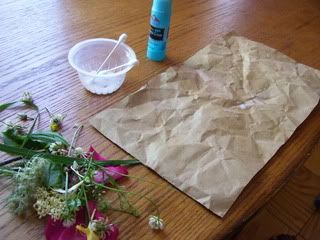 5. Let the collage dry, and enjoy!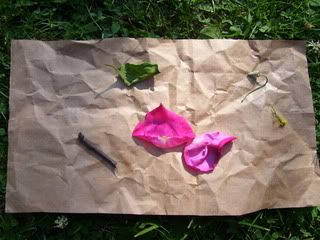 *While on you walk, look out for things like poison ivy.
Also,make sure that your flowers and other plants are "bug free".
(Before you bring them indoors).