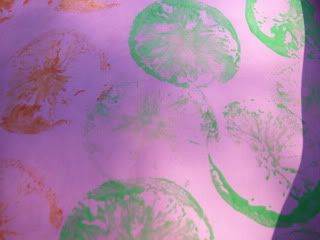 Don't you just love Summer? That is when fruit is the best.We have been buying lots of it.It has been great because our son has been trying so many new things...he is so picky.Today we tried oranges again,and then we did print making with them.
Supply List:
Bowls
Oranges
Paint
Knife
Paint
Construction Paper
Craft Sticks (Optional)
1. Let the child touch the orange,talk about the color...size.How does it feel?
2.Cut the orange in half.What is inside?How does it smell?How does it taste?
3.After the child is done eating,grab another orange and cut it in half.Put the oranges in paint.If you want,add craft sticks so that they are easier to grip.
3.Have the children use the oranges to make prints on the paper.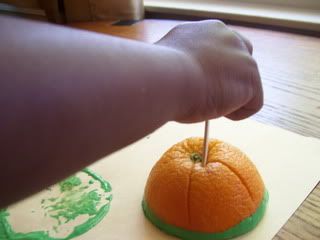 4.Let the prints dry and enjoy. :)