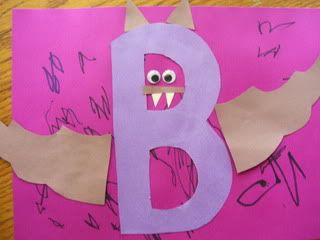 The Letter of the Week is B. In order to help my son remember the letter, we connected it to something he already knew.Our Letter B was transformed into a bat. :)
Materials:
Construction Paper
Google Eyes
Scissors
Markers
Glue Stick
1.First, I set out markers and paper for my son to color.
2.Meanwhile, I cut out the various parts of the bat. (The "Letter B", Ears,Mouth,Teeth,Wings)
3. When my son was done coloring, I set out all of the other supplies.We talked about the letter B and I helped him glue things to his paper.
All done!