As you may recall, the letter of the week is "A". I wanted to give my son as many chances as possible to practice letter recognition.That is why we did a "Letter of the Week" Hunt and Collage.
Supplies:
Old Magazines
Scissors (Optional)
Construction Paper
Glue Stick
1. I showed my son the letter of the week,and named it. Then I handed him a magazine and said that we were going to look for the letter A.
2.I am amazed at how well he did. (Here he is looking at a small "A").
3.After we found the letters,we tore them out.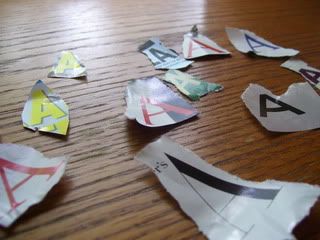 4. Next,my son glued the letters to paper.
Hurray for the letter A !
:)